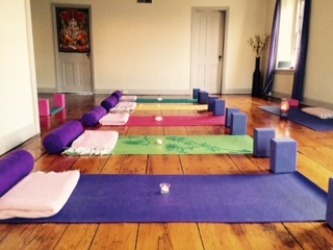 Our friend Ginger from Blossom Yoga Studio and her Yogi community have been very generous over the past few months. Together they have raised over $900 to support the Bucks County COVID-19 Recovery Fund. We are so grateful for their support!
We had a Q&A with Ginger to learn a little bit more about her efforts to "Make Hope Happen" in Bucks County!  
Thanks so much for your support and thank you for giving me some time to ask you a few questions! I am excited to learn more.
Can you tell me a little bit about yourself and your studio?
Blossom Yoga studio was founded by me in 2012 and is located in Wrightstown, PA in The Gathering shopping village, one of the oldest sites in the county.  The studio is located above what used to be the general store and post office in the 1800s.  The town jail was rumored to be in the basement and in the 1920s a speakeasy existed on the floor above the studio.  There is much history to the building that now houses the studio and a yarn store.  I fell in love with the 12"wide pine boards and abundant sunshiny space the minute I saw it.  Since opening in June of 2012, the studio has taught over 1800 residents from the community the style of yoga called Vinyasa Yoga, plus meditation and breathing practices, and much more.  With the advent of the pandemic, the studio closed to in-person classes in March and is now a "virtual" yoga studio, teaching 12 classes/week via Zoom.  You can read more about the studio, the teachers and our offerings on our website.
How have you raised money in the community? 
For each $10 Livestream Drop-in Yoga class that students take, Blossom Yoga gives $1 to UW Bucks, and for each $75 Month of Unlimited Yoga pass sold, $10 is donated to UW Bucks.  To date $938 has been raised and donated this way since April.  I plan on continuing this fundraising as long as there is a need in the community.
Why did you decide to donate to United Way of Bucks County?  
I've worked with other organizations who have an association with UW Bucks over the past 25 years and have always been impressed with your organization.  Presently, I am a volunteer with Rolling Harvest Food Rescue and together with UW and others, support the Fresh Connect project in Bucks County.
What impact do you hope to have on the community?  
I hope that UW uses the money raised to support residents in Bucks County in the best way possible.  Certainly, I am passionate about bringing nutritious food to those who need it and would hope that some of this money supports Fresh Connect.  I enjoy educating the residents of Bucks County on where their food comes from, how to create delicious, wholesome meals, and how to support our local farmers.
Anything else you'd like to add? 
Thanks for the work you do in our community!
Since September, there is a Wednesday evening yoga class that students can donate $5 directly to UW.  All of that money goes to our monthly collection for UW.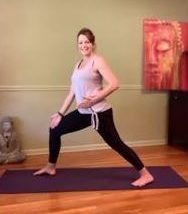 Ginger and Blossom Yoga Studio have helped so many people in Bucks County. If you want to help Make Hope Happen for others, go to www.uwbucks.org/makehopehappen.