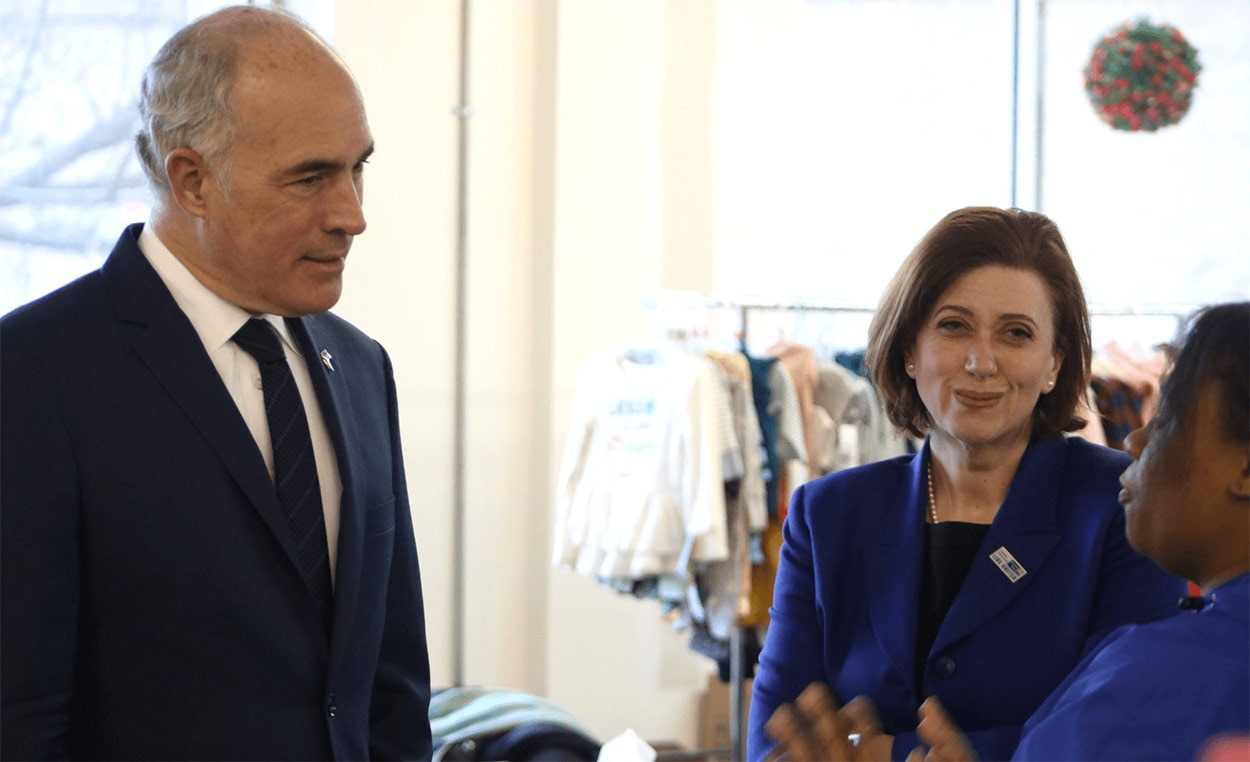 Senator Casey visited United Way of Bucks County's HELP Center in Bristol on Monday, December 12 to see the nonprofit's work in action.
The HELP Center, a Healthy Eating and Living Partnership, provides essentials like personal hygiene items, clothing, food, and home goods – all brand new and completely free of charge – to local families who are struggling financially. The Center serves people in every single zip code of Bucks County.
After touring the HELP Center, Senator Casey praised the level of dignity that shoppers receive and thanked United Way staff and volunteers for their work.
"Even if the government is doing all that we can, we're going to need the help of centers like this and dedicated Americans like all of you," said Senator Casey. "I want to thank you for all that you do; not only in Bristol and throughout the county, but what you're doing for your country. You're doing God's work at a time when we've never needed it more."
During his visit, the Senator also spoke with several HELP Center shoppers to hear their stories firsthand.
One of the shoppers, a mother named Desiree, shared that her ability to work was impacted when her twins were born conjoined in 2018. "I honestly couldn't have gotten luckier by landing here when I needed things for the twins," said Desiree. "There is not a single person here that doesn't handle people who work through the door with grace."
Marissa Christie, President & CEO at United Way of Bucks County, shared that the HELP Center has expanded services over the past year thanks to the support of Senator Casey and Congressionally Directed Spending.
"It is a sincere privilege and honor to welcome Senator Casey to our HELP Center," said Christie. "We're incredibly grateful for his generous support. As we continue to expand and serve even more neighbors, we're going to need the support of community members, too. We are still heavily reliant on donations of time, products, and financial support to keep us running."
According to the nonprofit, HELP Center visits are increasing as families struggle to keep up with the cost of living amid growing inflation. Over the last year, the number of visits from "walk-in" shoppers has increased by 662%.
Community members interested in supporting or learning more about the HELP Center, including volunteer opportunities, can visit www.uwbucks.org/helpcenter.
The HELP Center is a collaboration between three nonprofit agencies: United Way of Bucks County, Bucks County Opportunity Council, and St. Mary Medical. Penn Community Bank provides financial support for the project.