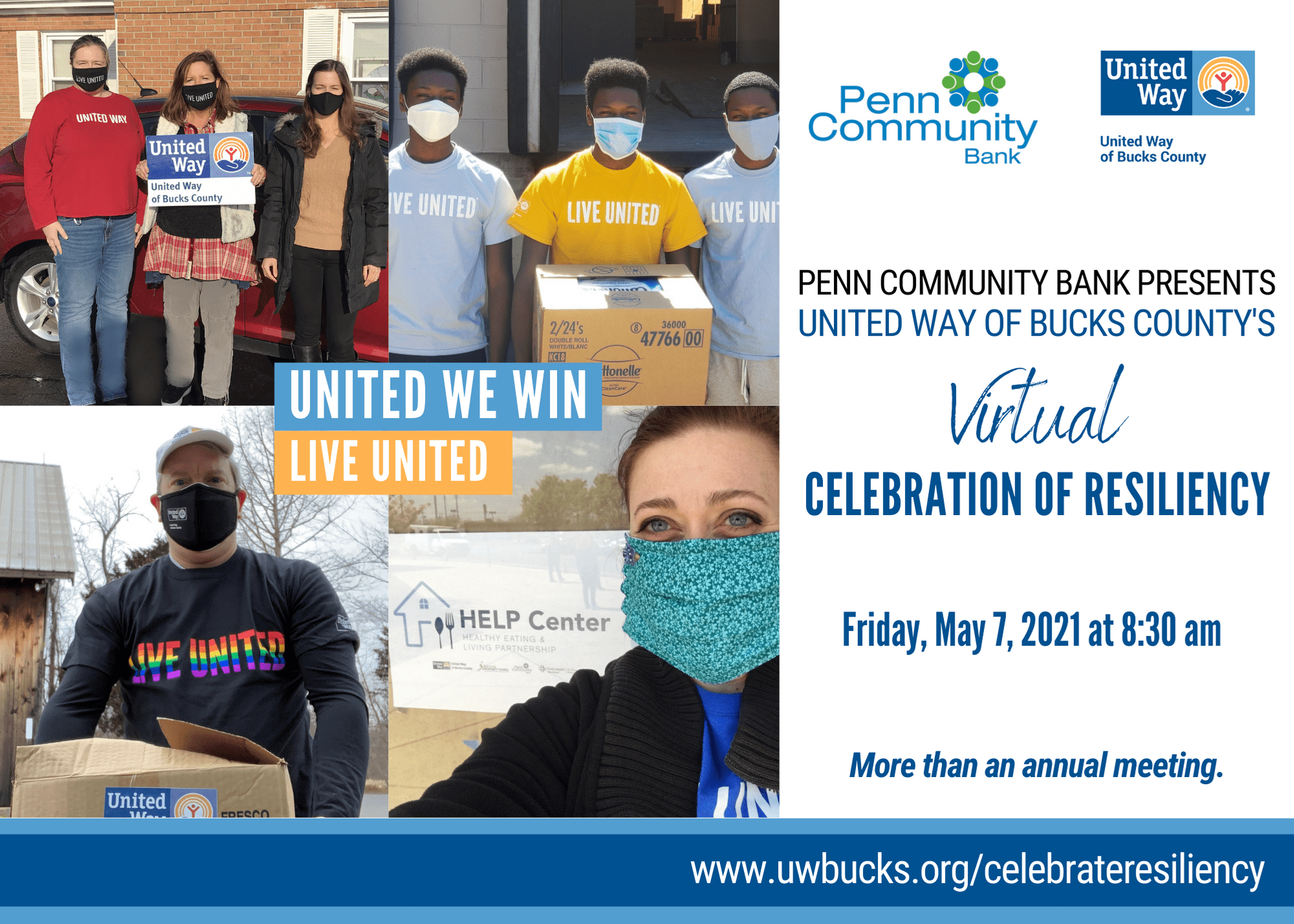 United Way of Bucks County's board of directors is pleased to announce their newly elected Board Officers, elected May 7, 2021.
Catherine McElroy, who recently retired from Bucks County Community College, will extend her position as Board Chair for another year. McElroy has served in various leadership roles on the board since 2012 and is credited with leading the organization through the unique challenges of COVID-19.
"To say that the past year was a challenge is an understatement. I am proud that we accelerated our pace and provided more support than ever before in Bucks County. I extend my thanks to my fellow board members, our staff, and all those who have worked with us over the past year," says McElroy.
Kristen Elder, CPA and finance leader with a long history in the pharmaceutical industry, will continue her role as Corporate Secretary.
Jeane Vidoni, President and CEO at Penn Community Bank will continue as Vice Chair of Community Impact, a position she has held since 2016. Vidoni leads the region's largest locally run, independent mutual bank.
Carol Schramm, Finance Director at Gannett, will serve as the organization's Treasurer. Gannett is the award-winning media organization responsible for The Intelligencer and Bucks County Courier Times.
Paul Bencivengo, President and COO at Visit Bucks County, will continue to serve as Vice Chair, Nominating Committee. Bencivengo says that he plans to continue building an active, passionate Board. He notes that the newly elected board class exceeds the organization's expectations.
"Our new board class has a wide array of professional skills that will help the organization continue to innovate and support the community," says Bencivengo. "Their unique backgrounds will also bring much diversity of thought as the board continues to evolve and face the challenges of today and tomorrow," he adds.
New members, elected May 7, 2021, include Joseph Albert, Director of Festivals and Events, Peddler's Village; Kevin Antoine, Vice President/Chief Diversity, Equity & Inclusion Officer, Bucks County Community College; Susan Baranowski, Corporate Director of Human Resources, Refined Hospitality; Gena Jaffe, founder, Connecting Rainbows; Amy Musolino, Vice President of U.S. Marketing, IQVIA; Purvi Panwala, CHO, CHIA, and Co-Founder, PPM Corporation; Marc Sabo, Director of Product Oversight and Governance, BlackRock in Princeton, NJ; and Bernard Tynes, Senior Vice President and Director of Marketing and Data Analytics, Penn Community Bank.
Joseph Albert is the Director of Festivals and Events at Peddler's Village, where he creates and manages dozens of large-scale events each year that draw hundreds of thousands of visitors. His efforts have earned Peddler's Village the distinction of being one of the most well-known festival venues in Pennsylvania.
Kevin Antoine is the Vice President/Chief Diversity, Equity & Inclusion Officer at Bucks County Community College (BCCC). He ensures students and employees have equal access to all the campus' educational programs and leads the college's civic and community engagement efforts. In addition to a long and distinguished career in higher education, Antoine is an Air Force Veteran. He is passionate about fostering civic engagement in public education, veteran affairs, and community partnerships.
Susan Baranowski is the Corporate Director of Human Resources at Refined Hospitality. She is a seasoned HR professional with extensive experience creating and fostering a development culture in teams. One of her greatest strengths – and passions – is building trusted relationships. Baranowski is a lifelong resident of Bucks County and cares deeply about the community and serving others.
Gena Jaffe is the founder of Connecting Rainbows. She was raised in Bucks County, earned a full athletic scholarship to Penn State, and then moved to New York for work and to attend law school. She is a member of the LGTBQ+ community and she and her wife have two young children. Jaffe is a serial entrepreneur and currently owns and operates three separate businesses: a law practice (she is a New York lawyer focused on business law for entrepreneurs), a social media business creating content for brands, and Connecting Rainbows, which connects the LGTBQ+ community to legal and fertility resources.
Amy Musolino is a seasoned marketing executive currently serving as the Vice President of U.S. Marketing at IQVIA. She has experience managing multimillion-dollar marketing budgets, leading sales and revenue growth by uncovering opportunities, and driving change with data. Earlier in her career, she served as a ship's navigator and Communications Officer in the US Navy, where she received numerous medals and awards. She has a long history of volunteering in the community and has served on several boards.
Purvi Panwala is a seasoned professional with experience in hotel management, acquisition, and development. She is co-Founder of both CRC Construction Corporation and PPM Corporation and is a Hospitality Law Lecturer at American University in Washington, DC. She has previous board experience with the Asian American Hoteliers Association, the nation's largest hotel owner's association. In 2019, she was named one of the Most Influential Women in Hospitality.
Marc Sabo is the Director of Product Oversight and Governance at BlackRock in Princeton, NJ. Marc has a 20-year career in the financial services industry where he has managed Fund Control teams in the alternative investment space (private equity and hedge funds). He is passionate about volunteering in the community to serve those in need and seeks out volunteer opportunities whenever possible.
Bernard Tynes is Senior Vice President and Director of Marketing and Data Analytics at Penn Community Bank. He is a high energy marketing executive with more than a decade of experience. Tynes has been recognized as one of our region's Forty Under 40 by the Philadelphia Business Journal (2018) and one of Philadelphia's Most Influential African Americans by The Philadelphia Tribune (2019). He is a strategic leader, a passionate problem-solver, and has a long history of donating his time and talent to build strong communities.
"Our Board of Directors is a team of community leaders committed to creating opportunities for quality education, financial stability, and good health to ensure real, lasting change," says Marissa Christie, President and CEO of United Way of Bucks County. "Our newest board members bring incredible passion, experience, and expertise. They will be instrumental in furthering our mission."