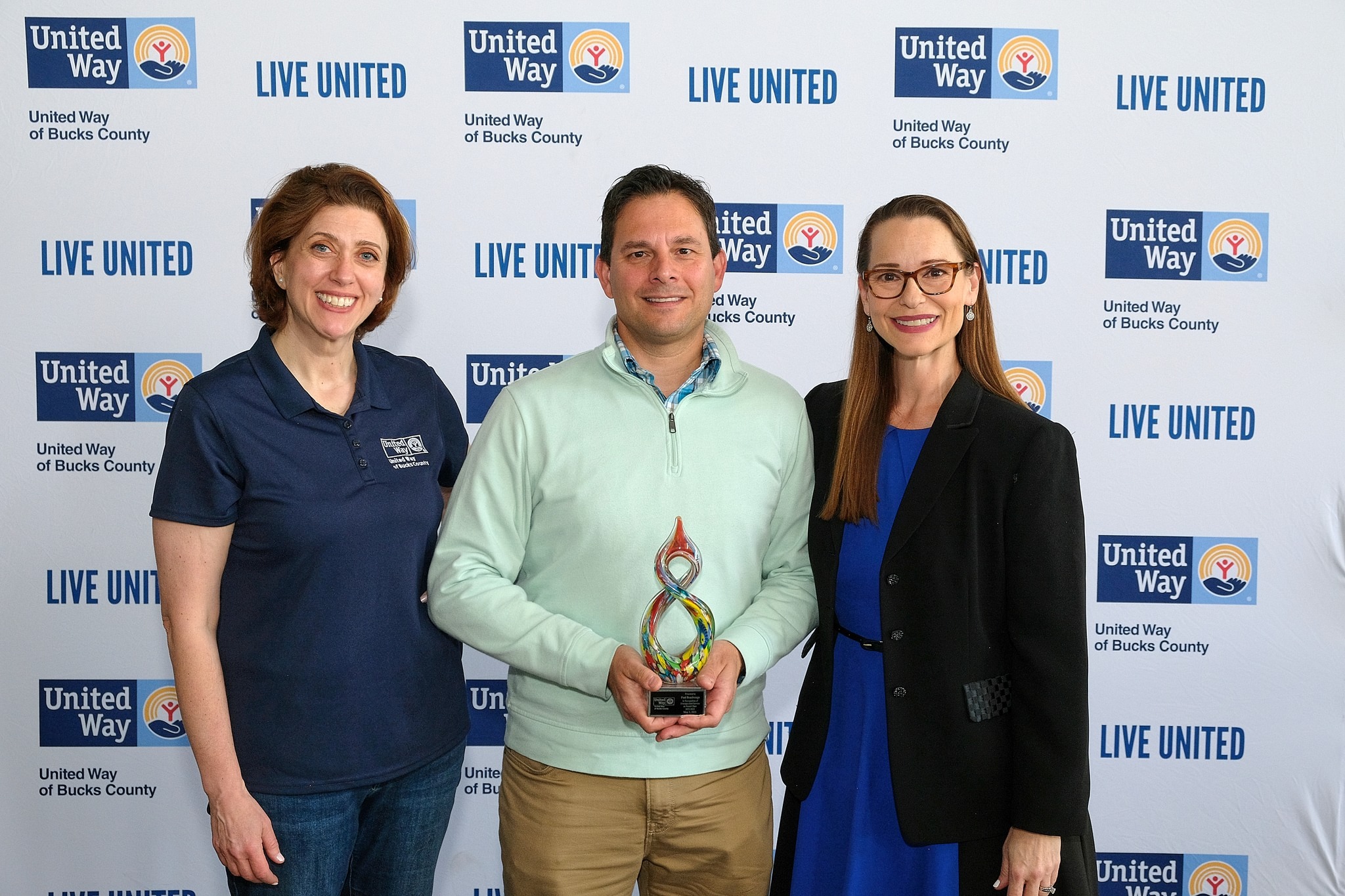 United Way of Bucks County brought together hundreds of community members at its Annual Breakfast, also known as United for Good, on Friday, May 5.
During the hybrid event, which was sponsored by Penn Community Bank, the nonprofit shared highlights of its work over the past year and announced its new slate of board officers.
Karen Johnson-Susko, Global Customer Care Director at Veolia Water Technologies & Solutions and formerly Corporate Secretary, will succeed Paul Bencivengo as Board Chair.
Matt Hanson, VP – Senior Regional Manager, Police and Fire Federal Credit Union, will take on the role of Vice Chair, Community Impact.
Bernard Tynes, Executive Vice President, Chief Marketing & Impact Officer at Penn Community Bank, will serve as Vice Chair, Nominating Committee.
Kristen Elder, CPA and finance leader with a long history in the pharmaceutical industry, will continue her role as the organization's Treasurer.
Paul Braun, Director of Business Development, Comcast Technology Solutions, will serve as Corporate Secretary.
Newly elected board members include Julia Amo, MBA, PMP, Business Leader and Strategist; Rick Battaglia, SVP, Commercial Banking, Penn Community Bank; Randy Beaman, VP, Relationship Manager, Commercial Banking, Univest Bank & Trust; and Jeffrey Lehocky, Executive Vice President and Chief Financial Officer, QNB Bank.
The nonprofit also recognized several individuals and organizations with awards:
Matt Hanson, Police and Fire Federal Credit Union, Board Excellence Award
One House at a Time (OHAAT), local nonprofit, United for Community Award
Julie Frantz, community volunteer, United in Service Award
Jeane Vidoni, President and CEO of Penn Community Bank, United for Impact Award
Kate Fay, Executive Director of OHAAT, accepted the United for Community Award for her organization. During her speech, Faye expressed her gratitude for the partnerships that allow the children they serve to thrive.
"It's so great to be in a room of what I feel are truly kindred spirits," said Kate. "We're all here connected in terms of trying to serve the people in this community who need us most."
For many attendees, the highlight of the event was an emotional testimonial from a shopper at United Way's HELP Center. Elissa first connected with the HELP Center when she was seeking emergency food assistance. Now, she's a small business owner.
"The HELP Center is not merely a food pantry or a place to go when you need things for your home," said Elissa. "It is the very embodiment of community. The United Way shows us all every day what it means to truly love your neighbor. My life is still not perfect, and I still struggle every day. But every day I get up and continue pushing forward knowing that no matter what, I have my family at United Way."
In addition to the firsthand testimonials and award presentation, attendees also heard about three themes that permeate United Way's work: their local impact, responsiveness, and holistic approach.
Before closing the event, Marissa Christie, President & CEO at United Way of Bucks County, announced plans for a new, expanded HELP Center.
"We want our new home to be the kind of space that rises up to meet people," said Christie. "We want every person who walks through the door to decompress a little, knowing that they will get help and be treated with kindness, dignity, and respect. You will hear more about this project over the next year. I sincerely hope I can count on you because we will need your help – but together we can get this done."
Christie also encouraged people to get involved with United Way by signing up to volunteer at www.uwbucks.org/volunteer.
Community members interested in watching a recording of the event can visit www.facebook.com/UWBucks/videos.