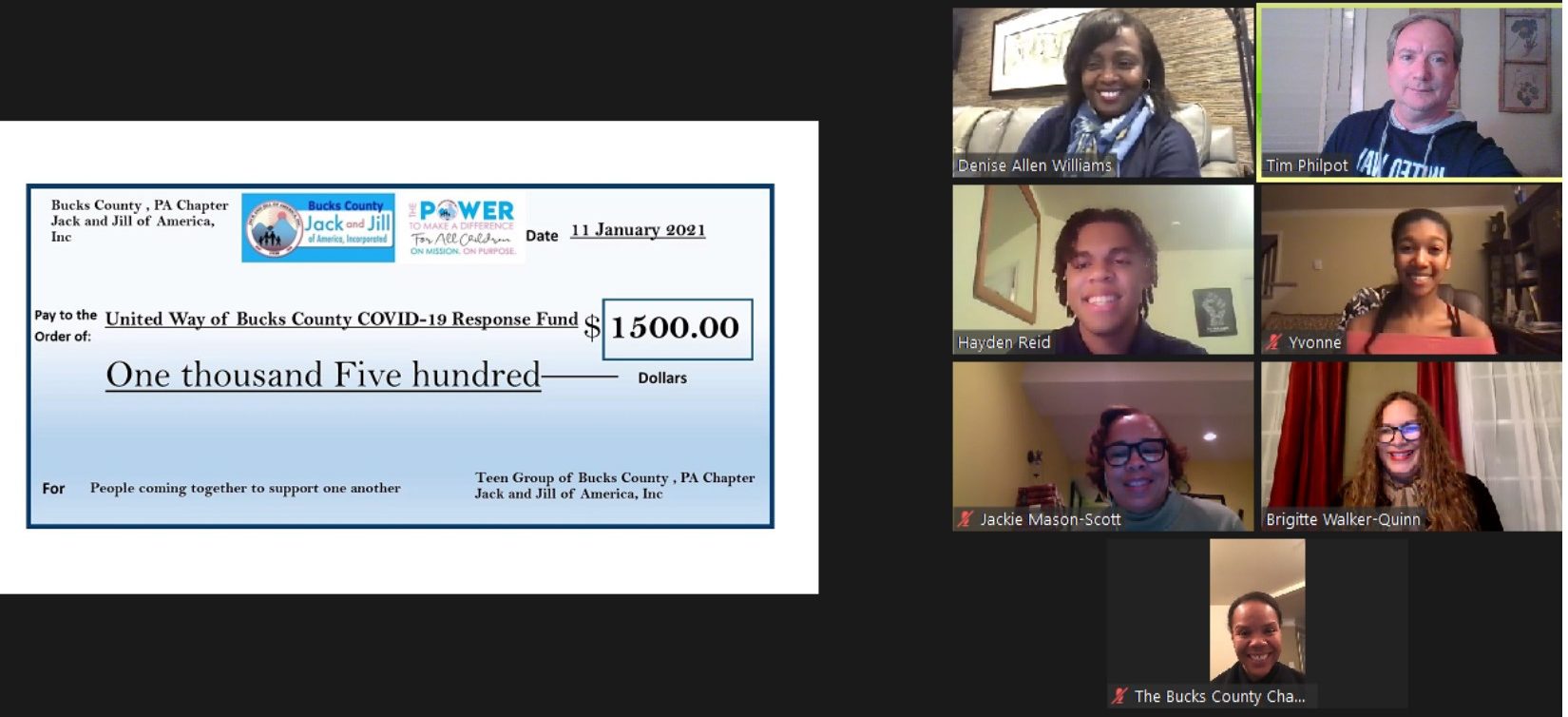 Teen group raised $1,500 for human service agencies through the COVID-19 Recovery Fund
The Bucks County Chapter of Jack and Jill of America, Inc. recently made a donation to the Bucks County COVID-19 Recovery Fund.  The fund, established in March by United Way of Bucks County with additional funding from Penn Community Bank, provides grants to nonprofit organizations in Bucks County for COVID-19 related client needs. 
The teen fundraising committee of the Bucks County Chapter provided the donation of $1,500 on January 11th. Hayden Reid, President of the teen group, made the check presentation via zoom. Hayden explained, "The COVID-19 pandemic has upended our lives and community. Our silent auction was a great opportunity to raise money to help those in need in the Bucks County community."
Yvonne Burke, the Fundraising Chair of the teen group, said that they raised funds by holding a virtual silent auction. Earlier in the year, the club raised $2,000 for the recovery fund.
Brigitte Walker-Quinn, Bucks County Chapter President, says the children and teens in our Chapter, from a very young age, read and heard the words of Dr. Martin Luther King, Jr. "Everyone has the power for greatness because greatness is determined by service. It is wonderful to see our chapter's brilliant teens embrace Dr. King's words recognizing the importance of service as they find creative ways to support our community."
Tim Philpot, Director of Financial Stability and Health at United Way says, "We are incredibly grateful to these young people for their support. It is heartwarming to see this the next generation of philanthropists in action."
Since its inception, the COVID-19 Recovery fund has provided 77 grants, totaling just over $400,000, to 37 local nonprofits serving people impacted by COVID-19. All grants focus on life-sustaining and essential human services. United Way of Bucks County Member Agencies will continue to submit grant applications on a rolling basis. Applications are reviewed by a panel of business and nonprofit leaders. Payments are released immediately to ensure that people who experience a financial crisis due to COVID-19 get help quickly.
To learn more about the programs and services provided by these agencies, visit: www.uwbucks.org/covidgrantswork.
In addition to the Jack and Jill Club, more than 800 individual, local donors, Penn Community Bank, Dow, BB&T now Truist, Janssen, PECO, Foundations Community Partnership, Bucks County Foundation, Simon and Jane Hallett, Barra Foundation, Grundy Foundation, Fegley Law Firm, Shoprite of Hunterdon County, Vistra Energy, Wells Fargo, Bucks County Chapter of Jack and Jill of America, Inc., 100+ Women Who Care Bucks County, Residents of Ann's Choice, PNC Financial Services Group, Inc., The Albert W Bader Foundation, Inc., the Newtown Business Association, Johnson & Johnson, Inc., and M&T Charitable Foundation support the fund.
Donations can be made at uwbucks.org/COVIDrecovery or by mailing a check to United Way of Bucks County, 413 Hood Boulevard, Fairless Hills, PA 19030, with COVID recovery in the memo line.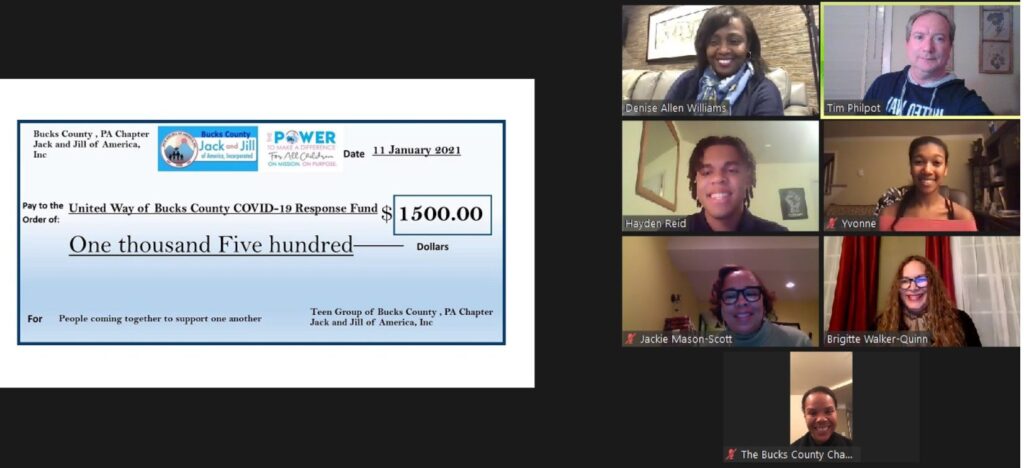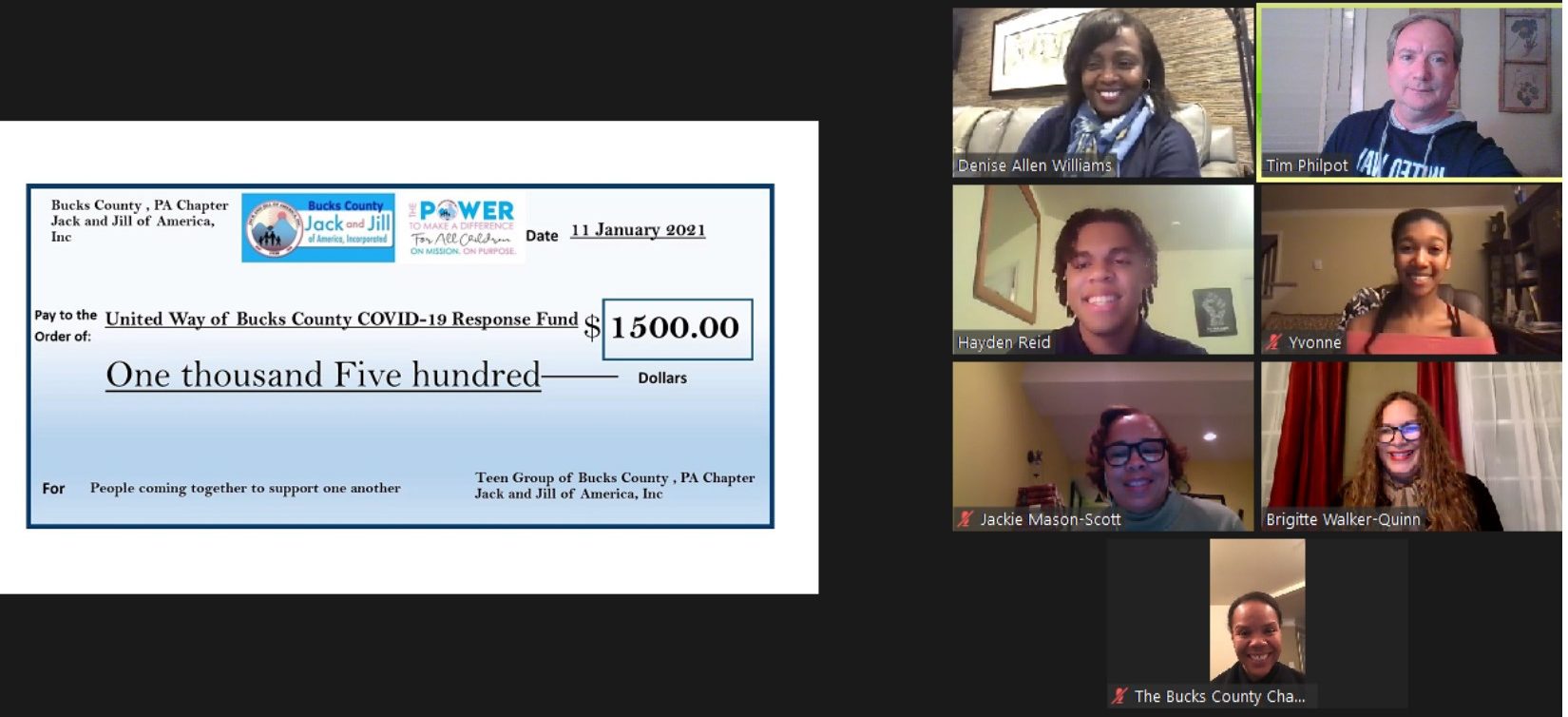 About Jack and Jill Clubs of America: Jack and Jill boasts 247 chapters nationwide, representing more than 40,000 family members. Each chapter plans annual programming activities guided under a general five point programmatic thrust: cultural awareness, educational development, health (education and advocacy), civic (legislative advocacy and service) and social/recreational areas. Through service projects, Jack and Jill of America creates a medium of contact for children to stimulate their growth and development. Through lobbying, educational programming, dissemination of education materials, and the organization of community and charitable events, Jack and Jill has promoted the public awareness and interests of children including child development, child growth, child quality of life, child care and the promotion of children's rights.