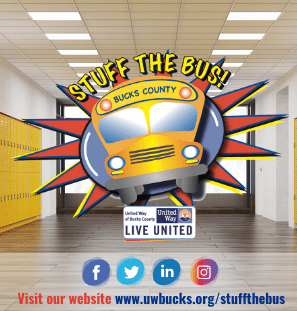 United Way of Bucks County is seeking monetary donations for its annual back to school supply drive, Stuff the Bus. Despite challenges caused by COVID-19, the organization still plans to assemble backpacks full of school supplies for children from low-income families in Bucks County. This year, they will also provide cleaning supplies, disinfectants, and reusable masks to help prevent germs spreading between home and school.
"We surveyed hundreds of parents struggling to make ends meet." said Marissa Christie, President and CEO at United Way of Bucks County. "Overwhelmingly, they report that in addition to school supplies, they need help with securing items like hand sanitizer and disinfectant wipes, and we want to make sure that families have these things. We want to make sure that no matter what school looks like this fall, kids and families are prepared."
She adds, "Expanding this project beyond school supplies means that the cost of helping each student is higher. But we believe that keeping kids, their families, and the staff at their schools safe is worth it."
The campaign, which kicked off on July 10, will look a little different than it has in the past. Because of COVID-19 restrictions, the organization will not be hosting it's Back-Pack-A-Thon, which usually brings together over 300 volunteers. Instead, they will have smaller groups of volunteers pack the bags at the HELP Center to prepare them for distribution to United Way member agencies, school districts, and residents.
Now in its 10th year, Stuff the Bus is another way that UW Bucks helps bridge the financial gap for low-income families. Janet (not her real name) who received backpacks last year for her three children said, "We are extremely grateful for this opportunity. Your generosity and events like Stuff the Bus make a stressful time easier for us parents."
"We already have well over 2,500 students registered for help this year — and registration is still open. We will have to raise at least another $20,000 in the next two weeks to serve all of these families." Says Katie Matarazzo, Project Manager of Stuff the Bus.
Donations can be made online to support the drive at www.uwbucks.org/stuffthebus or by check, mailed to United Way of Bucks County at 413 Hood Blvd, Fairless Hills, PA 19030, with Stuff the Bus written in the memo line.
Stuff the Bus is presented by Wells Fargo Bank and is sponsored by; Bay Sales, Comcast, First National Bank and Trust of Newtown, The Pennsbury Education Association (PEA) and The Pennsbury Educational Support Professionals Association (PESPA). Nonprofit organizations collaborating with United Way of Bucks County on this project include Bucks County Housing Group, Big Brothers Big Sisters of Bucks County, YWCA Bucks County, and Catholic Social Services.