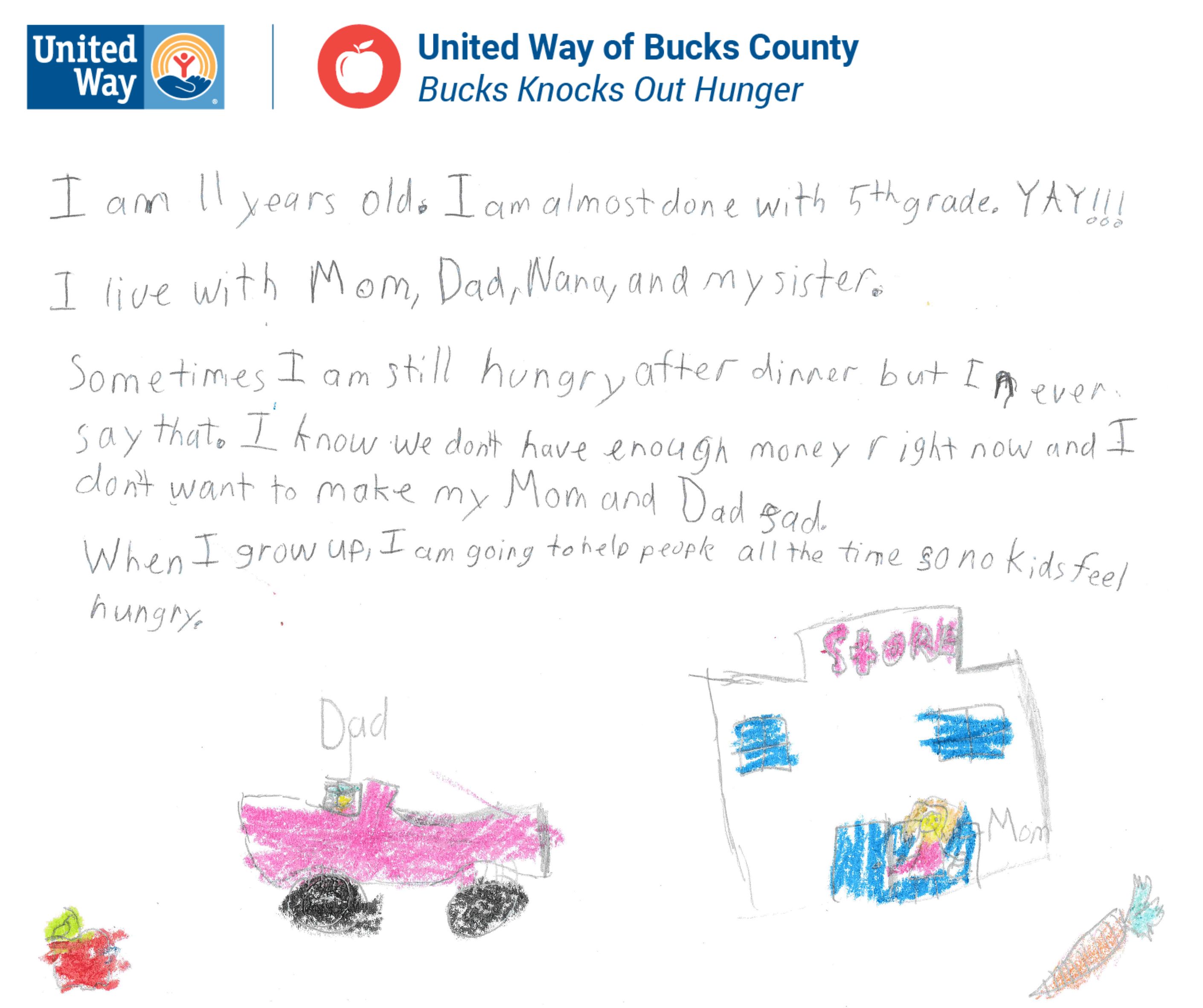 What is Bucks Knocks Out Hunger?
Currently celebrating its 10th year, BKO Hunger is our community's biggest hunger relief event. Each year, thousands of donors, advocates, and volunteers unite to fight food insecurity and ensure lasting health in Bucks County.
Fight Hunger for Alice
About 6% of Bucks County residents live in poverty, but another 24% are ALICE – Asset Limited, Income Constrained, Employed. ALICE is above the poverty line, but often struggles to cover the cost of basic needs.
ALICE workers keep our schools, stores, and hospitals running, yet they do not earn enough to support their own families.
ALICE households represent the growing number of families who are often forced to make tough choices, such as deciding between paying the rent or putting food on the table.
Most ALICE families are not income-eligible for help from programs like SNAP or government-funded food pantries. As grocery prices soar, their options are limited.
When you support Bucks Knocks Out Hunger, you stand united for ALICE. You are doing more than ensuring that your neighbors are fed. You are helping the folks that keep our community running.
Healthy Food First
For 10 years, United Way of Bucks County has put access to healthy food first in our fight against hunger. When you donate to BKO Hunger, your gift supports the following programs.
Fresh Connect: Our free, mobile farmers market brings healthy options like fresh produce, eggs, and dairy to the same three locations in Bucks County each week, year-round.
Senior Produce Boxes: The Senior Produce Box Program improves the health of low-income seniors by supplementing their diets with fresh produce, delivered directly to their doors or a senior center they visit regularly.
Local Food Pantries: BKO funds supplement our county-wide network of food pantries – including our HELP Center pantry – with healthy items not often donated, like eggs and milk.
Make An Impact
Do you want to help knock out hunger? Visit uwbucks.org/bkohunger or click the donate button below to make a difference. Your compassion will win this fight.