Racial Wealth Gap Learning Simulation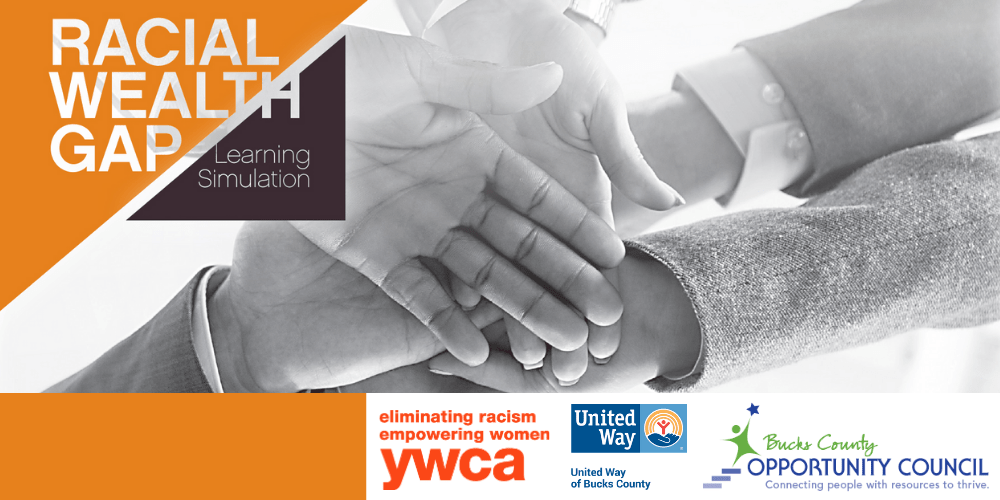 United Way of Bucks County, YWCA Bucks County, and Bucks County Opportunity Council are collaborating to bring Racial Wealth Gap Learning Simulations to our community.
The interactive workshop helps people understand racial inequality at the structural level and how it connects with other social justice issues.
Participants learn how federal policies created structural inequalities in many areas, like property ownership and education, and how these policies increase hunger and poverty in communities of color. The simulation was co-created by Bread for the World Institute and NETWORK.
Is your business, group, faith-based organization, or club interested in hosting a Racial Wealth Gap Simulation in 2021? There is no charge through the end of 2021 and limited openings are still available. Contact Katie Matarazzo at katiem@uwbucks.org or (215) 949-1660 ext., 101.
Racial Wealth Gap Simulation FAQ's
Goals of the Simulation
Understand why racial equity is important to address structural inequality.
Discuss racial equity within our organizations, groups, and/or communities.
Incorporate a racial equity lens into our daily work, life, policies, practices, advocacy, etc.
Feel more comfortable explaining the importance of applying a racial equity lens when working to end hunger, poverty, health or achieve goals in other issue areas.
How long is the entire simulation?
One hour to 90 minutes. Larger groups and/or groups who want to have a more detailed discussion will need more time.
How many participants do we need?
At least 4, and we recommend no more than 48. We have successfully held sessions with over 125 people in the group.
Where can the simulation be held?
Sessions are being held virtually until community conditions improve.
Who should participate?
Participants can be staff members, policy makers, advocates, students, volunteers, or any individuals interested in learning about social justice.