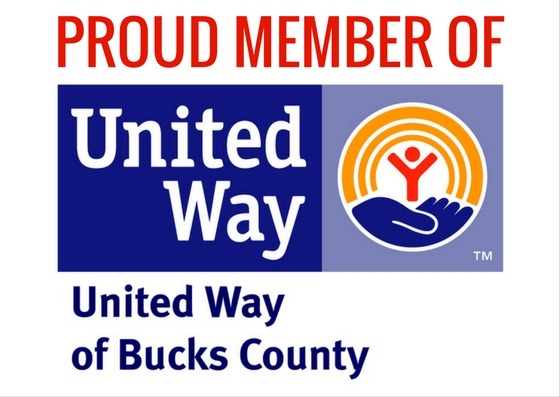 The United Way of Bucks County team is excited to welcome 9 new member agencies to our roster. Our member agencies provide human services that help people right here in Bucks County. We now have 60 501(c3) nonprofit member agencies. All of these organizations have been vetted by United Way staff and volunteers. See the full list by clicking here.
United Way members enjoy many benefits including: Access to resources, enhanced credibility, publicity and awareness, networking, and other special opportunities. You can learn more about United Way member agencies by clicking here.
The Bucks County nonprofits joining our team include; Rolling Harvest Food Rescue, Livengrin Foundation, Lenape Valley Foundation, One House at a Time, NAMI Bucks County, Catholic Social Services, Trinity Christian Academy, TLC Childcare Center, and LifeSpan.
About our new members:
Rolling Harvest Food Rescue is our county's only food gleaning organization. The organization works with local farms and food outlets to take food, mainly produce, that would be otherwise be discarded to food pantries and other food relief sites. They have partnered with us for BKO Hunger for 8 years and with Fresh Connect for the last three years. Other partners include the YWCA, The Trenton Health Team, Gravity Hill Farm, and Bucks County Opportunity Council.
Livengrin Foundation is a well-known and reputable drug and alcohol treatment center in Bensalem, with satellite offices in Doylestown and Oxford Valley. They provide a range of inpatient and outpatient care and only utilize evidence-based treatment models. They also have specialty programs for veterans, first responders, and healthcare professionals.
Lenape Valley Foundation is one of county's three community mental health centers. They provide many different kinds of outpatient services but serve a large portion of who they serve are people with severe mental illness and people who are lower income. They also provide crisis mental health services in Doylestown and Bristol Township and have a respite care unit on the grounds of Lower Bucks Hospital
One House at a Time is a regional organization based in Philadelphia that provides services in all five counties. Their mission is help families establish (or re-establish) self-sufficient lives by providing them with the necessities of a functional home environment. Their current focus is ending child bedlessness. Through their Beds for Kids program, they provide children and youth with beds and bedding.
NAMI Bucks County is the local chapter of the National Alliance on Mental Illness. Their mission is to improve the lives of individuals and families affected by mental illness, through recovery-focused support, education and advocacy. They are Bucks County's leading voice on mental health and recovery and have been established in Bucks since 1983.
Catholic Social Services is a ministry of the archdiocese of Philadelphia. Based in Levittown, they run a busy food pantry and also provide counselling, parenting support, diapers and emergency financial assistance to people in need. They participate in Stuff the Bus and the Emergency Food and Shelter program we administer through FEMA.
In addition to these six organization, three of our Pre-K counts partners have also applied and been vetted. They are Trinity Christian Academy, the TLC Childcare Center, and Lifespan.